The original and WiFLi SRAM RED eTap rear derailleurs were not available with a clutch designed to work with a 1x drivetrain. SRAM encourages riders using these derailleurs to maintain the complete RED eTap system utilizing the front derailleur.
The updated "A2" model of the SRAM Red eTap 11-speed rear derailleur is compatible with both 1x and 2x drivetrains, as well as cassettes up to 11-32t. The SRAM part number for this derailleur is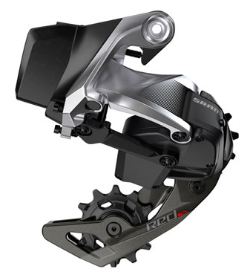 RD-RED-E-A2 - 00.7518.141.000.